Hotel and relax the most important of your holiday
The Canary Islands offer a wide range of accommodation to rent, but also for sale. Booking a trip can be done via an Immobilier, vacation auction or your tour operator. On the internet, there is often the possibility to find cheap holidays
The fact that you are visiting my website means that you are looking for a nice and pleasant stay in Gran Canaria. The search for a good accommodation is not easy in the wide range hotels.
I'm just here to share my travel experience with you so that you still have a bit of direction where to search. For reservations, bookings and reviews on the Internet there are some very good websites to read customer reviews.
I can advance and recommend already read at home as many responses from customers. Let the search begin …
Help on this site and send me your comments here
Hotels in Maspalomas
You can not miss them in Maspalomas and Meloneras, hotels and apartments are abundantly present. Hotels in Gran Canaria or the other Canary Islands can not compare a hotel in Belgium, the Netherlands or the UK.
The hotels in our country are smaller, usually do not have a large garden with swimming pool, offer little buffet form, fewer rooms, in short, it is not comparable with those in Spain. Granted the climate and therefore the weather in both countries plays a major role here.
Hotels and star classification
Hotels have a classification system where the number of stars determines the quality and gives a hotel rating from 1 to 5. This is true for every hotel around the world, but again you should not compare the allocation of stars in Belgium, Netherlands, UK and other countries with these in Spain. In the Netherlands, for example, it is called today Hotel Rating (NHC)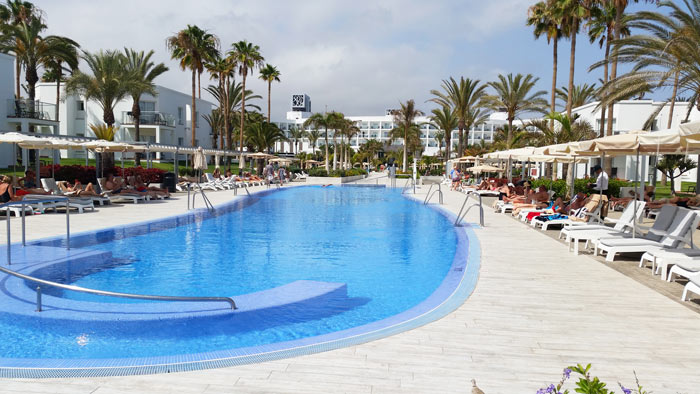 Do you choose a hotel with three or four stars? Does it make much difference? Look, I've stayed in hotels with 3 stars and 4 stars. Is there much difference? In my opinion there is here and there is a slight difference noticeable, but in some hotel chains hardly a capital gain. Why am I switched to a 4 star? Honest to be for the tranquility.
The 4-star hotels received much less youth and families with children. Not a problem, but you have people who are looking for a peaceful holiday, and others love again every day activities at the pool, animation, etc. In short, in a 3 star hotel, the service can be as good, food perfect, but from experience I can say that there is more noise in a 3 star hotel.
Types of hotels in Maspalomas
Apartment Hotel or Aparthotel: An aparthotel has the same facilities as a hotel, the only difference is that you are talking about an apartment and do not have a room. An example is Riu Flamingo in Playa del Ingles..
Other Aparthotels in Maspalomas, Seaside Palm Beach, Seaside Gran Hotel Residencia, Meliá Tamarindos, Cordial Sandy Golf, Sheraton Salobre Golf Resort, Club Vista Serena, Cordial Green Golf, Tisalaya and Oasis Maspalomas. An assessment of these aparthotels you can read on TripAdvisor
Hotel-Restaurant : Here you can spend the night and do you have a restaurant. The restaurant is usually included in the price. This may be all inclusive or half-board. In the hotel restaurant you do not have to spend the night, you can also dine at the buffet on payment.
Some examples of Hotels with restaurant in Maspalomas, Seaside Grand Hotel Residencia, Seaside Palm Beach, H10 Playa Meloneras Palace, Palm Oasis, Club Hotel Riu Gran Canaria, Ifa Faro Hotel Dunas Mirador Maspalomas Cordial Green Golf, Turbo Club, Canary Garden Club. Other hotels and their ratings on Tripadvisor
Resort Hotel : This hotel offers all the amenities of a regular hotel, but guests can also provide a recreational vacation, wellness, etc … This resort hotels are usually located near the coast.
These hotels generally offer an all inclusive formula. Some examples of Resort Hotels, Lopesan Costa Meloneras Resort, Spa & Casino, Sheraton Salobre Golf Resort & Spa, Hotel Dunas Suites and Villas Resort, Hotel Riu Palace Meloneras Resort. Reviews of all hotels Tripadvisor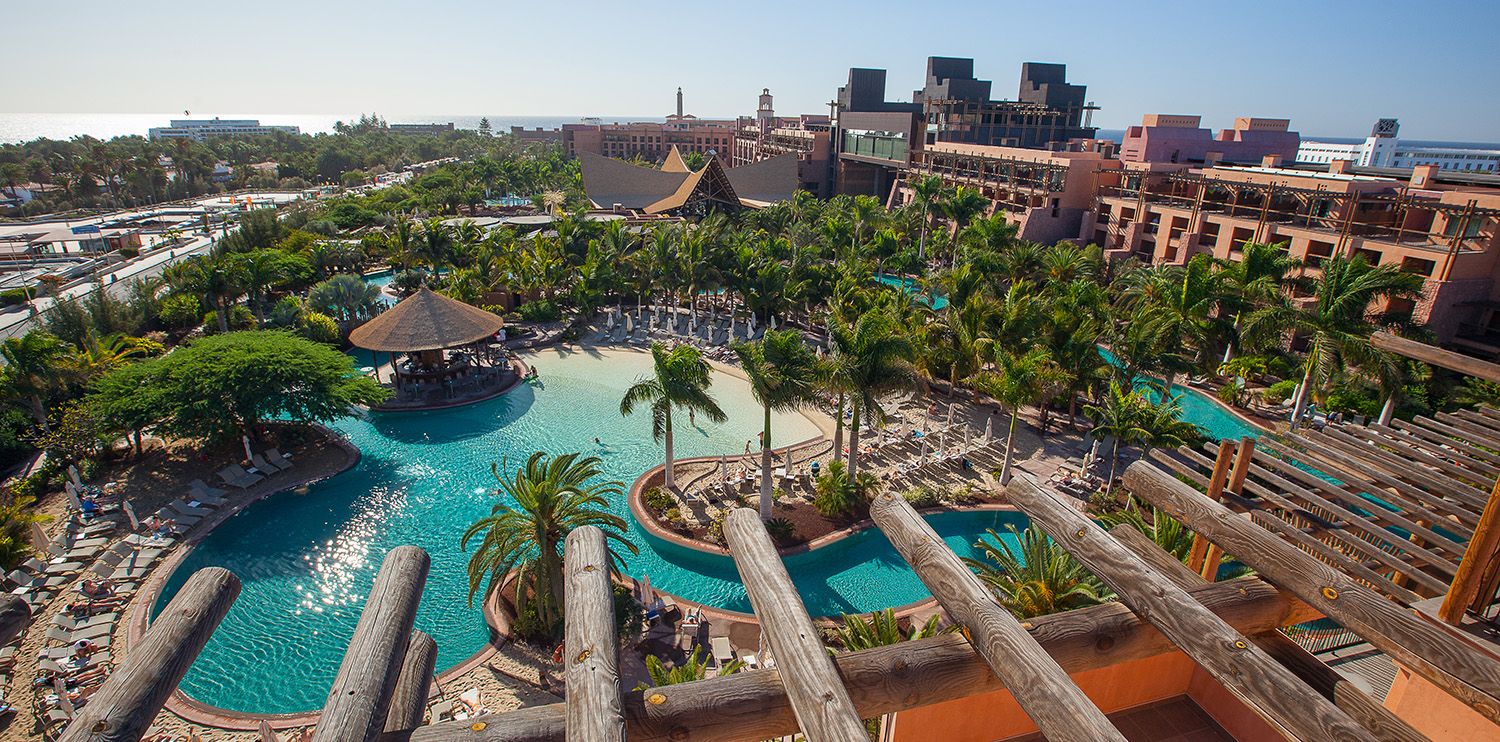 Examples of selected hotels are lucrative, and only a small sampling of the wide range in Maspalomas.
Discount and Hotel specials
Maspalomas travel does not always have to be expensive. There are also budget hotels but most hotels in Maspalomas regularly offer specials or discounts such as a spring break in May or in June. These are the months in Gran Canaria where cheap discounts are valid. Special discount for children is provided in most hotels.
Vacation in a child-friendly hotel
Children and holidays, today is no longer indispensable. Also, hotel owners know this and love playing with children in discount, kids games, outings and other activities for children under the name of children's entertainment. A family stands so high on the wish of both parents of kids as the hotel owners.
The hotels we have been on holiday until today were all very child friendly. Regular cooking workshops, kids, ball games, a disco and an air clown.
Another requirement is a children's pool that is safe enough for babies. The Hotel Riu Waikiki instance has a separate enclosure where even an inflatable pool is provided for children. The children's entertainment is on top and well. Have you been in a hotel in Maspalomas where you are happy child friendliness, you can specify by using the contact form.
Gay friendly hotels in Gran Canaria
For gay and lesbian couples is Gran Canaria the holiday island par excellence. There are several beaches where nude bathing is allowed. Accommodation for gays to find is something difficult. Close to the Yumbo shopping center in Playa del Ingles – Maspalomas, where evenings the gay community come together in the numerous night clubs, you can find a gay-friendly Hotel. Hotel Neptunus is modern and clean, but can sometimes be noisy due to the proximity of the night bars. Customer reviews can be read here.
Another well situated gay friendly hotel is Seaside Sandy Beach. Also this very good hotel is within walking distance to the beach. Take into account that with your way back to the hotel the road is pretty steep. Sandy Beach receives very like to gay and lesbian guests, but is also a family hotel. Customer feedback here.
AxelBeach Maspalomas Hotel belongs to the hotel group AxelBeach, and offers its guests a beautiful hotel on the basis of apartments and an excellent Lounge Club. AxelBeach Maspalomas is very gay and hetero-friendly. Not suitable for children because the hotel is adults-only. More information and customer response can be read here.
Other gay friendly hotels and apartments are Club Torso, Apartments El Paseo, Birdcage Resort, Vista Bonita Resort, Beach Boys Boutique Resort and Rainbow Golf Bungalows. Did you personally have any tips of other gay friendly hotels and apartments, please let me know the name via the contact form.
Maybe a tip if you as gay to Gran Canaria comes on vacation, and want to book a hotel. During February and March, the gay-friendly hotels can fill up quickly for the Carnival. The same is valid for the month of May. Then find the annual Gay Pride held in Maspalomas and Playa del Inglés.
All inclusive or half board
You can enjoy all the offers like breakfast, lunch, afternoon snack and dinner. Then there's all the drinks and snacks are included. You paid for it and you also want to get the most out of the can. My preference goes out to half board. What is your preference?What choice will you make, all-inclusive hotel or half board. It's just how your day is organized, which makes it easier. The biggest difference between inclusive and half board is that you almost a whole day should be present in the hotel
With half board you are not dependent on the afternoon lunch. The advantage is that you can leave right after breakfast, for example to make a day trip on a terrace by the sea, the beach, the hotel etc … You can then decide or to bar during the afternoon in a restaurant or snack lunch you eat or not.
What both have in common is the evening dinner. Here is some difference, some hotels divide dinner into 2 groups. The reason is because the restaurants can not receive all the guests at once The great majority of hotels with buffet choose a first group from 18:00 to 20:00 and a 2nd group of 20:00 to 22:00.
My preference is for the first group. The shops are open until 22:00 you can still take combined with a terrace. Against that if you pass at 22 hours to leave the restaurant then rest is just an evening walk and terrace. It is, of course, for each a free choice.
From Hotel to the beach
Unless you stays from the morning till the evening at the pool or in the botanical garden of your hotel in , there are probably residents like you who prefer to sunbathe and swim a few hours on the beach.
Is your hotel located directly or within walking distance of the beach you will not have to move far. Have you not that lucky and it's still a bit too far, you bid probably a beach bus from the hotel. This beach bus is a shuttle bus that takes you from morning till night to the beach. This extra service is usually free.
Please note, the beach bus does several hotels. The departure and pick up times are generally every hour at a fixed location that is specified in advance. All information on this can be obtained at the reception.