Golf courses on Gran Canaria
Gran Canaria as a holiday combined with a golf vacation. The island offers a variety of golf courses. 8 different golf courts, I have been selected for you.
[showad block=501]
Anfi Tauro Golf
You can find Anfi Tauro Golf in the municipality of Mogan, on the south side of the island. With a 9-hole, par 27 pitch and putt course, opened in 2001, and a newer 18-hole par-72 course, this club is located in a breathtaking setting.
It has spectacular lakes with crystal clear water and a large variety of plants and flowers. You also have beautiful views of the mountains. In addition to a green and a practice area, there is a cafeteria and a driving range.
Location: Barranco del Lechugal, Valle de Tauro s / ​​n – Mogan 
Meloneras Golf
This beautiful Meloneras Golf course runs along the Bay of Meloneras in the south of the island. It was designed by Ron Kirby. 18-hole, par-71, of which 9 holes with stunning views of the mountains and the other nine overlooking the ocean. The design of this job is very attractive.
The holes started simple, but they are gradually more and more difficult. Attention to detail is very important to Meloneras Golf – even the golf carts are equipped with GPS!
Location: Autopista GC 500, s / n, Meloneras
Salobre South Course
You will find Salobre Golf, one of the newest golf clubs on Gran Canaria, in a stunning setting with ravines and volcanic landscapes that are typical of the south of the island. The lush greenery of the orbit is indeed a strong contrast with the surroundings.
[showad block=340]The course was designed by Roland Faure. This interesting and demanding par-71, 18-hole Salobre Sur golf course covers a length of 6 km. The tricky Salobre Norte, also known as the Beast alley and designed by Ron Kirby, has 18 holes, but is par-72. Facilities at the complex include a golf school, practice area, driving range, green, club rental, whirlpool, professional shop and restaurant with terrace.
Location: Autopista Gran Canaria 1 / Km 53 – Urbanización El Salobre – Maspalomas
Website
Golf El Cortijo
This track Golf El Cortijo was often the scene of major i
nternational championships. It is also a venue for the Peugeot Oki Tour and the Professional Spanish championships for women and seniors.
Designed by Blake Stirling (lead designer Pete Dye) and Marco Martín, has this par-72, 18-hole course on fast greens and up to six tees per hole, it offers a lot of variety and a decent level of difficulty. It also has six lakes with over 600 century-old palm trees around it. Other amenities include a golf academy, driving range, chipping green to, green and practice bunker and there are also opportunities to rent. Carts, bags and clubs
Location: Autopista del Sur G.C. 1 / Km 6,4 – Telde
Website
Real Club de Golf de Las Palmas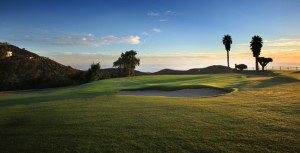 The Real Club de Golf de Las Palmas was founded in 1891 by English immigrants, and it is even the oldest golf course in the whole of Spain. This job is located south of the Pico de Bandama, and offers breathtaking views over the Caldera Bandama, a spectacular volcanic crater.
This par -71, 18-hole course was designed by Mackenzie Ross and has two greens, a oefentee, pitching green, instructors, pro shop, club hire, restaurant and an excellent wine cellar. There are also two tennis courts, an equestrian center and a swimming pool.
Location: Carretera de Bandama s/n 35380 Santa Brígida
Golf Maspalomas
When Mackenzie Ross designed this Maspalomas golf course, he did so with the surrounding sand dunes in mind. As a result, Maspalomas Golf offers an extremely long and flat course with long, wide lanes.
Even on the hottest days, the proximity of the sea and the gentle sea breeze which is cooled by the trade winds, a visit to this course an unforgettable experience.
This 18-hole, par-73 course has hosted a number of prestigious international competitions. It has a practice green, driving range, instructors, facilities for the hire of carts, bags and clubs, shops, restaurants and snack bars.
Location: Avda. Touroperador Neckermann – Maspalomas
Website en Prices – Facebook
Salobre North Course
The new site Salobre North Course, was built in 2008 and designed by Ron Kirby. This 18-hole PAR 70, has had a great evolution in recent years.
The new areas will surprise you as a golfer. Are you looking for a new experience, a special design and a unique landscape, you've found it here.
[showad block=502]