Kitchen and food on Gran Canaria
Kitchen is cooking, eating and healthy diet. The Canarian cuisine or gastronomy consists of traditional dishes of the Canary Islands. Each country has its own traditional recipes what you find back home in the Canary population, but also in the local restaurants. Canarian cuisine is healthy with tasty recipes. I like to take you on a culinary journey to the Canary Islands.
Giving a private touch to the native cuisine is important for the culture of the sunny Canary Islands and thus also to Gran Canaria. Each island such as Tenerife,
Fuerteventura or Lanzarote be in the same line of recipes, and yet each island gives an extra touch to his food and dishes. Just as in mainland Spain stands pizza, pasta, paella, tapas and salads in the cookbook of the Canarian cuisine.
Food with Latin American influences
Cultural influences from other countries contributed to the kitchen and healthy food of today in Gran Canaria. The first original inhabitants of the islands, the Guanches have influenced the recipes with the Latin American cuisine. Especially the typical cuisine from Venezuela and Africa made their contribution. Tasty recipes but also easy recipes featuring these southern cuisine.
The most important food of the Canary cuisine is also still Barley today. This barley be roasted and then ground into flour, known Gofio. Well as other crops such as corn and wheat are contemporary used to make Gofio. Also in Cuba, Dominican Republic, Chile and many other Latin American countries you can find Gofio.
Gofio was already an important nutritional component after the Spanish Civil War. The people were then rationed or so to speak diet. Gofio was then mixed with water and sugar, and then kneaded in a pocket of goatskin.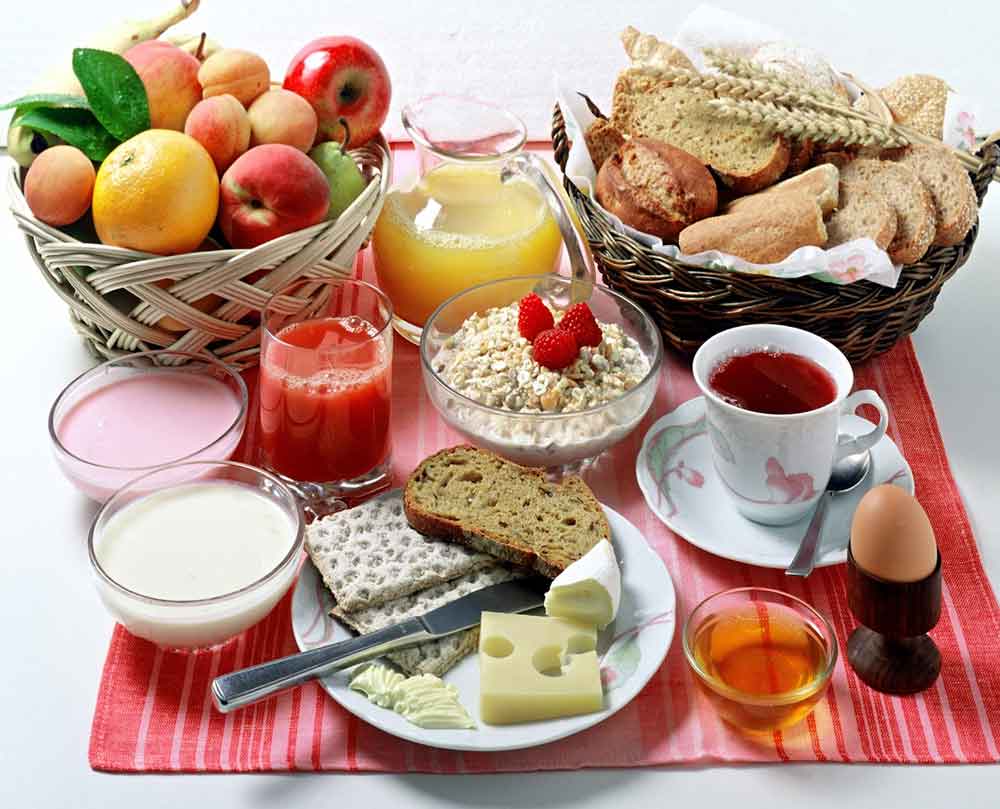 Today is Gofio also added as a healthy breakfast with milk. In the Canarian cuisine become Gofio as cornstarch also used to thicken soup and stews. But even in desserts, ice cream and sauces. Think pancakes, cake, bread, in short, you can applying almost all kitchen dishes. Gofio is rich in vitamins, minerals, protein and fiber.
From breakfast to dinner to eat late at night
The inhabitants of Gran Canaria and the neighboring islands eat at a different time than for instance in Belgium, the Netherlands or the UK. From breakfast to dinner all happens at a different time.
The breakfast (Desayuno) take the Canary Islanders or Canarios mostly outdoors. The breakfast takes place in two parts. To start the early morning eat they first a cup of coffee with a croissant, toast (tostado) or Bollo.
A Bollo consists of different varieties, just like our coffee cake. From 10 am one then takes the time for a more robust breakfast. Time for a sandwich (Montado) a filled baguette (Bocadillo), or a toast generally with ham and cheese (bikini).
Lunchtime (Almuerzo) become both in Spain and taken to the Canary Islands between 13 am and 15:30 pm, the time when most of the shops close for a siesta. Lunchtime contains snacks (tapas) such as olives, cheese, bread and other ingredients. As drink ordered they beer or wine, but also soft drinks sometimes.
Coffee or tea does not belong to a lunch. By a lunch with a hot main dish become before sometimes eaten a salad. Lunch is be closed with sweet candies.
You now have no great hunger on the noon then you can of every dish or menu order a small or half portion, which to my knowledge is only possible here. A dish at a local restaurant in Gran Canaria is still affordable.
The dinner ( Cena ) or supper you shall a spaniard or a resident of the Canary Islands never see before 21.00 consuming anything. It will be even much later, it is not unusual for dinner only become a dinner before 23 hours. Why is that? Due to the closure of many shops in the afternoon, many people have to work up to 21 or 22 hours. Residents who do not have a siesta in their work, examine their daily work and for dinner usually purchased for a walk with the family, the family or friends.
This may be associated with the consumption of tapas and a glass of wine on a terrace of a bar. The dinner is extensive and there is then also plenty of time taken. Canarios choose as a drink with dinner wine or mineral water (con gas = carbonated or sparkling), (sin gas = no carbonated or sparkling), sodas become less used.
The Canarian population has a love for spicy and aromatic dishes. Many of these herbs are grown on the islands but also imported. The most commonly used spices include cumin, thyme, bay leaf, paprika, saffron, oregano, parsley, hierbahuerto, anise and fennel.
Local Products as fruit, vegetables, cheese and honey

Gran Canaria and the other Canary Islands love local produce. Just think about vegetables and tropical fruits that are grown in large part on the islands made possible by the suitable climate. Think of tomatoes, pickles, typical highly nutritious small bananas (platano), papaya, sweet potato, mango, avocado, guava etc …
Everyday there is a fresh range of fish in the public market, restaurants and hotels. Native fish species from the Atlantic Ocean are La Claca and La Vieja and definitely taste the Canary lobster. But also known as fish squid, octopus, eel, tuna and mackerel are some of the many species of fish that the sea is rich around the Canary Islands.
Grapes being also grown in large numbers in Gran Canaria. The grapes are sweet because of the many sunny days. Various types of grapes be used in the the wine production. The ecological viticulture on the island gives the extra energy to the economy of Gran Canaria. Winegrowing you can find of Lanzarote, La Gomera, La Palma, El Hierro and Fuerteventura.
These fresh and wholesome local produce can buy daily at the local markets, whether or not covered. Also fresh meat get offered to the customers. The meat on Gran Canaria get imported from Spain or South America. Yet there is also local meats such as rabbit, goat and pork. But we should certainly not forget the meats and sausages like the Chorizo de Teror.
Tasting of artisanal goat cheese, goat milk, sheep cheese, sheep's milk and delicious honey with or without rum (Ron Miel) from the heart of the green hospitable Gran Canaria. If you are a fan of grilled sardines then i can you strongly recommend the restaurants at Sardina de Norte.
On the island you can also find shops selling Bio ecological and local produce. You can buy in stores this health food stores generally anything from fresh ingredients for the Canarian cuisine. The "El Instituto Canario de Calidad Agroalimentaria" ensures that all standards are respected for the sale of organic food, natural products and organic products.
Some places where you can find Health Markets in Gran Canaria.
La Batea Ecologica – Las Palmas – website
La Zanahoria – Las Palmas – website
La Tirijala – Telde – website
Sabe a Gloria – Santa Brigida – website
La Huertecilla de Ana – Las Palmas – website
The full list can be downloaded here.
Hotels serve international cuisine

In hotels and bars are breakfast, lunch and dinner adapted to the tourists. Worldkitchen word in hotels interspersed with themed evenings. There is frequently a Canarian evening where typical Canarian dishes are served to the guests. So you get the chance to taste Potaje Canario (Canary soup), Papas Arugadas con mojo (wrinkled potatoes in their jackets with red or green sauce), and much more tasty and healthy dishes.
In the tourist resorts you can alternate your food with Mexican, Japanese and Chinese restaurants. Enjoy and taste the typical cuisine with fish dishes can in the majority of local restaurants. Gran Canaria is an island, it is natural that there are many dishes including fish on the menu.
After fish recipes belongs meat like goat meat, poultry, pork and rabbit also to the daily diet of the Canary Islanders. Cheese and seafood accompanied by fresh vegetables, fresh soups and stews are also in the cookbook as an everyday food.
The island dwellers also have a preference for spicy dishes and snacks like chillies with salt and bread, are eagerly consumed with a glass of wine. The Canary people is crazy of desserts. Most popular is the Bienmesabe Canario. This delicious and tasty dessert is originally from the island of La Palma, and originated sometime in the year 1926. The special taste will surely satisfy most demanding among us. Bienmesabe prepared with almonds, eggs, sugar and lemon. They say that La Palma are the culinary island of the archipelago.
Specialties in the kitchen in the Canary Islands
As every country have the Canaries their specialties in the kitchen. The kitchen in Gran Canaria has been extended I'm going to also below introduce you to the main specialties of the Canary kitchen.
Conejo en Salmorejo : rabbit they a whole night is marinated.in red wine and herbs.
Mojo sauce : Mojo Picón or Mojo Rojo, usually used in meat dishes and slightly spicy. Mojo Verde is a soft green sauce. Become recommended with fish.
Papas Arrugadas : The potatoes are unpeeled boiled and sprinkled with salt. Very tasty with Mojo sauce.
Ensalada : Just like us a nice fresh salad.
Sancocho : A delicious soup from the Canarian cuisine. Fish, mojo, gofio and potatoes.
Chorizo: A typical Spanish salami
Bocadillo : A baguette topped with fish, meat and vegetables
If you have yet tasty recipes or typical Canarian cuisine, do not hesitate to report it via the contact form