Playa de Amadores a unique beach
Playa de Amadores, an impresionant artificial beach which is situated in the warm southwest of Costa Canaria. Well known tourist places nearby are Puerto de Mogan, Taurito and Puerto Rico. Playa de Amadores belongs to the municipality of Mogán.
The 800-meter long beach of Playa de Amadores is contemporary and busy. Nevertheless exudes by its unique location in a quiet bay and the sea out of a true rest. Since 2004 has Playa de Amadores received the "Blue Flag" for its cleanliness, clear water and care for the environment.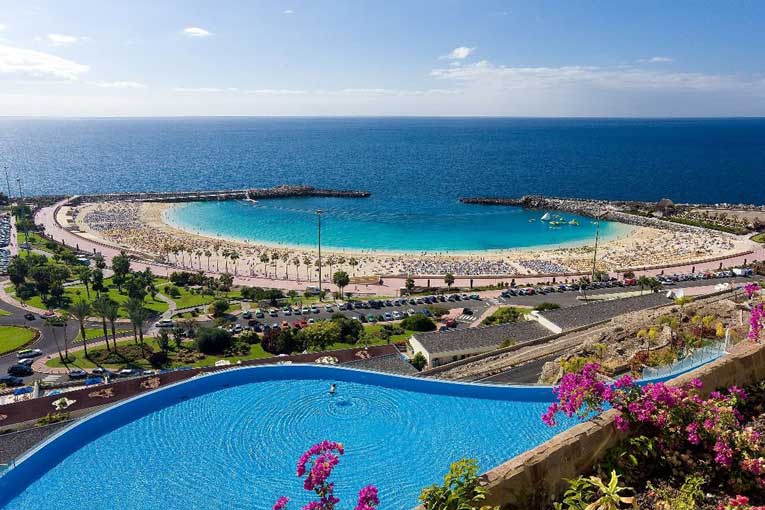 The largest outdoor pool in Gran Canaria
Playa de Amadores is actually one big open air pool. The white sand feels a little awkward at first, but soon you feel at home here. At regular intervals there are showers where you can do a body wash to put away the sand and salt water from the body .
[showad block=35]Because the beach is artificially constructed you can go very far away in the water. This is of course ideal for a family with small and big children. Through the bay form is on the beach little wave action.
The position of Playa de Amadores between immense rocks also ensures that it is protected from the wind. The artificial construction with the white sand in combination with crystal clear water creates a unique blue color.
A water paradise for the kids, mom and dad
A water park for the kids creates an extra touch. Both on the beach as in the waterpark there is all day monitoring of emergency services and police.
Are you not a fan to lie directly on the white sand to sunbathing, then you can rent a beach chair (€ 4 per day) and umbrella (€ 3 per day). It could also be that you dislike sticky sand on your body.
Even also there is a possibility for you to sunbathe on a landscaped concrete wall. Swimming can then in a seawater pool. Ball games and loud music on the beach are unfortunately banned until 18 PM. On the entire beach it is forbidden to smoke.
Would you like in between take a walk then this can on the promenade. Along the promenade you can reached on foot the seaside resort of Puerto Rico . On the beach itself is also a beach promenade. From this promenade you have an impressive panoramic view of the beach.
With a little luck you can see on a clear day the biggest volcano in Spain, the Teide on the neighboring island of Tenerife. Are you hungry, want a soft drink or a cocktail, no problem this and more can be found in the numerous shops and bars.
The restaurants also situated directly on the beach, offer you as a tourist good food such as tapas and snacks. But also rich food such as seafood is certainly possible. Would you like more luxury on the beach, no problem. Then visit the Amadores Beach Club.
From the terrace of the Beach Club you have an overview on the fantastic beach. Champagne, an exclusive interior and atmosphere make it a meeting place for everyone young at heart. Not to forget is the beautiful sunset, do not forget your camera (smartphone) and Video Camera.
Hotels near Playa de Amadores
I can imagine that you have no interest in culture and other attractions during your holiday. Just a beach and less than a hotel or apartment right on the beach enjoying your preference. Then Playa de Amadores is right for you. Gloria Palace Royal Hotel & Spa or the Gloria Palace Amadores Thalasso Hotel are located less than 200 meters from the beach. This is a hotel whose terraces provide a panoramic view of the ocean and the beach of Playa de Amadores.
[showad block=675]Do you prefer an apartment then you have Apartamentos Altamadores, Apartamentos Terraza Amadores and some other accommodations. Are you a proponent for even more luxury than is Serenity Amadores certainly a winner and highly recommended.
The Scandinavians have chosen this hotel to "Best Hotel Gran Canaria" and the "Fifth best in the World" Customers of the apartment complex may than also enjoying in luxury with views on the even from the terrace of your apartment. Waterfalls in the complex create an extra dimension of rest and relaxation.
The small complex of 40 apartments have private parking, WiFi (extra charge), supermarket and much more. As if that were not enough, there is a fee to reserve a sufficient well-behaved massage. Here you forget undoubtedly all the stress, hence the name Serenity is very well chosen.
[flickrstream id="8″]
How do I get to Playa de Amadores?
By car you get to Playa de Amadores from the GC-500. If you come from the direction of Las Palmas then you must first take the GC-1 motorway until exit Playa de Amadores. The car can be parked on the paid parking nearby. Alternatively, use a taxi definitely recommended. Public transport has led to a bus stop right on the beach.
Several buses drive from all corners of the island to Playa de Amadores.
Bus No.39 Playa del Ingles – Playa del Cura
Bus No.91 Las Palmas – Playa del Cura
Bus No.01 Las Palmas – Puerto de Mogan
Bus No.33 Playa del Inglés – Puerto Rico – Puerto Mogan (Journey price € 3.95 per person)